Lisa Virga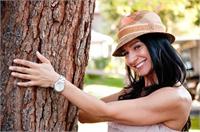 Lisa Virga was born and raised in Brooklyn New York. She has always loved to work out and felt a desire to someday become an instructor. Her new found love to Hot Pilates and Yoga has finally allowed her to set her practice into action. Lisa's journey at Vegas Hot has blessed her with a continued experience of transformation in mind, body, and spirit. Her practice has become her main focus in life which allows her to believe that all things are possible! Certified in Mat Pilates 1 & 2, Hot Pilates, Venus 90 & 60, and Spin.
Lisa Virga instructs the following:
Vegas Hot! BareFoot BootCamp Express contains elements of Hot yoga, Hot pilates, and core kettlebell exercises and high intensity intervals. This "express" is designed to get it done in just 45 minutes. While appropriate for beginners it is also perfect for advanced fitness practitioners with limited time, taught at 90-95 degrees to speed the warm-up and enhance your sweat.




Venus 60 is a faster paced hot yoga class. Venus 60 includes some flows that are both physically and mentally challenging. Venus classes includes all beginner postures but would be more appropriate for relatively fit practitioners. All "Venus" Classes are taught at 105 degrees and 40% humidity.




Are you looking for something a bit more strenuous than HOT! Pilates but not as intimidating as BareFoot Bootcamp? HOT! Sculpt is for you! It is for you! It is a Power Flow yoga and Pilates class combined with hand weights. A 60-minute class that will stretch, tone, strengthen, and give your heart a good workout. HOT! Pilates is a class you know and love, and now we have turned up the power by adding hand weights. Our express class is 45 minutes. When taken after our 45 minute BareFoot BootCamp Express we call it the "100X".




This class is the perfect remedy for tightness. In this 75 minute slow, passive stretching class you'll hold postures for 3-5 minutes, so this is a great complement and balance to your more active, yang practices. Strength of mind and body is the class focus. This is an excellent class for beginners and more seasoned yoga practitioners. Our Yin classes are provided in an 80 degrees room temperature.